Precision Machined
Optical Components
Precision Machined Optical Components
Machine Shop for Microscope, Laser and Telescope Components
Optical industry components require the highest precision and accuracy to ensure easy placement in complex equipment, such as microscopes, lasers, and telescopes.
Our advanced 5 axis CNC machines precisely mill components which meet the rigorous demands of the optical industry, ensuring the highest tolerances possible – less than .0001. DEYUCNC understands how each component fits into the project as a whole and its application of use, allowing our machinists to effectively machine parts so they fit perfectly into their assembly.
DEYUCNC machinists welcome any challenge and do not accept defeat. When presented with the trial of creating an optical switch requiring 1,000 small holes – each hole angled specifically to meet at one focal point four feet away – our team did what other machine shops across the US, Germany, and Japan could not, machined this complex component with the highest precision and accuracy possible, exceeding the standards set. This is not the first case in which DEYUCNC made what appeared impossible possible.
DEYUCNC' Swiss Machined Parts Meets the Demands of the Optical Industry
The smallest parts manufactured with the tightest tolerances are essential when working in the optical industry. Our CNC Swiss lathes offer the highest quality machined parts for businesses working with optical applications. From 5 axis machining to wire EDM, our CNC services will give your business the best precision manufactured parts at the most affordable cost.
Some of the CNC Swiss machined products manufactured by the optical industry include:
Microscopes
Telescopes
Cameras
Glasses
And much more
DEYUCNC continues to exceed quality standards in Swiss machining – from precision micromachining to wire EDM, our expert CNC services provide ultra-precision results made with the highest quality materials with the tightest tolerances. Contact us today to learn how you can take advantage of our CNC Swiss machining lathe.
Precision Machining for the Optical Industry
Electron microscopes require a lens holder – detailed enough to handle something as delicate as a lens but durable enough to protect it. Our expert machinists understood the highest tolerances are essential when dealing with something as minute as electrons, where the slightest error could be disastrous. We frequently design custom components which consistently meet these strict requirements and regulations. Our precision machining services for optical components are in high demand across the entire industry.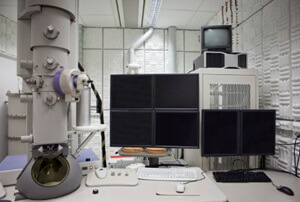 We can machine more than lens holders and assemblies. A recent project of ours was an optics assembly housing for a borescope. When engineering this particular component, we needed to ensure the lens assembly could accurately function while still being properly secured. We created a custom component which perfectly met the optical needs of our client. DEYUCNC offers a selection of services, including: